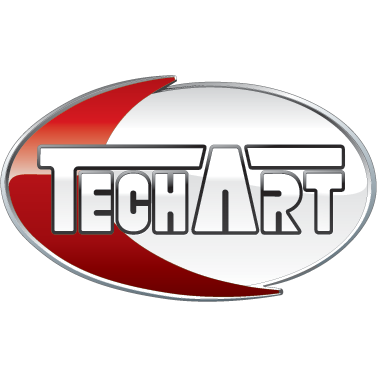 TECHART
TECHART is the global premium brand for individualization of any Porsche model. The greatest demands on excellence of the design, the supreme technology development competence and the responsibility towards emotion and reasons are what drives us.
Our core principle: OE producer quality – visible and invisible. This maxim is reflected in all genuine TECHART items.
[expander_maker id="1″ more="Read more" less="Read less"]
in-house design and model building
aerodynamic optimization in the wind-tunnel
computer aided development process in high-precision tooling for Polyurethane-RIM
series production type-approvals, part certification and homologation
verification of material performance and crashworthiness
trouble-free installation, finishing and servicing at authorized service centers
component and track testing secures performance and everyday use suitability
premium quality raw materials such as PU-RIM, carbon fiber, hand selected leather hides and precious woods
TECHART is unlimited freedom.
Each individual has an alternate point of view on life. Various expertise and abilities. An alternate way for living and thinking. A different view of individualism. So in the event that you are choosing to include a piece of your character to your Porsche, what might be the correct measure for uniqueness?
Which traits are accentuated is the result only of your personal preference. TECHART gives an amazing scope of alternatives to truly add your special mark to your Porsche model.
aerodynamic body kits, tested in a wind tunnel
carbon fibre parts
engine enhancements for upscale driving dynamics
exhaust sounds that take the breath away
lightweight wheels
handmade interior refinement.
[/expander_maker]
TECHART HISTORY
Ability is not enough.
Transforming something exceptional into something particular requires both sense of design and extraordinary workmanship. It takes years of automotive experience and flawless engineering. It also needs premium materials just as an exquisite degree of assembling quality.
But what it foremost needs is passion.
[expander_maker id="1″ more="Read more" less="Read less"]
Since 1987 the passion burns at TECHART. TECHART's vehicles can be identified worldwide by the own WMI number as the company has been accepted as a vehicle manufacturer for long time.
TECHART has built up as the worldwide premium brand in this section and yet still sets the example in individualizing Porsche autos. In all the below fields the TECHART programs include the full Porsche product range – from aerodynamics and exterior design, through car engineering to interior refinement at the in-house saddlery.
Consistently, TECHART produces customized and carefully handcrafted works of art. Exclusive materials and colours are the premise on which the individual taste of every single client manifests into the real world. Regardless of whether to emphasize subtleties or to make an altogether bespoke vehicle, TECHART sets no boundaries on the achievable.
The TEACHART brand is synonymous with high demands and as such implements a comprehensive TÜV and ISO 9001 certified technology program arranged and executed by the engineers and designers at TECHART. From the initial drafts and models to the completed item. High quality of the raw materials and production processes, exacting quality surveillance and pervasive safety tests ensure that each and every product merits the title TECHART.
The car dreams "made in Germany" are transported to all continents from our facilities located in Leonberg, at the doorstep of Zuffenhausen and Weissach. A global dealer network guarantee that your individual sports car is only a short distance away.
The expertise of the engineers, technicians and masters at TECHART's development department is accentuated by another significant quality: The passion to create outstanding products of the highest quality. And by combining that with the best materials we ensure the ultimate in quality and security.[/expander_maker]